EXPERIENCE PSYCHEDELIC MIND-BENDER HORROR
"The LOST CONTINENT" – June 19, 1968 U.S.
Whenever 00individual starts out with "Back in the'60s (or '70s)" it is not simply a reference to a time period, but an invitation to truly try and erase all one knows, briefly, to see and appreciate what those decades offered.  But more importantly, to see everything related as though new.
00individual was so very fortunate to experience the incredible newness that started in the early '60s. For nearly two decades life was straight up amazing; from Rock to the Moon and everything in between, each day revealed something new. And by new he means never seen, heard, read, or experienced.
Movies were in an exploratory phase of discovery where new techniques (Cinerama), soundtracks (Easy Rider is noted to be the first film soundtrack made up entirely of Rock songs), subject matter (pushed realistic and surrealistic boundaries), and many became future classic films.
Not all were classic, most weren't, but most all were seen, because back in the Drive-In days of the late '60s and early '70s it really didn't matter what was playing as most of the time the movies were a front for an evening of hot sex in a safely-parked car. However, there were those occasions where the movies were just too good and sex was saved for the second feature.
The late '60s had some truly psychedelic-inspired movies; Fantastic Voyage, Our Man Flint, The Trip, The President's Analyst, Wild In The Streets, the Abominable Dr. Phibes, Five Million Years To Earth, the insane trip of The Magic Christian, and then there was the truly bizarre atmospheric insanity of Hammer Films' "The Lost Continent".
Agreed by most all film critics as the sole outcast for typical Hammer productions, (even though Hammer could get pretty gritty and hit the right spots with The Conquerer Worm, The Pit And the Pendulam, Scream and Scream Again, among others); but here Hammer succumbed to the psychedelic zeitgeist and produced a Gem of Weirdness.
This Lost Continent had no Professor Challenger or Dinosaurs – this Lost Continent exists on the LSD vapors that come from the Killer Seaweed and a Vagina Dentata Monster in the boy king's galleon's hull. The Lost Continent had George Lucas' Sarlacc Pit Monster before Star Wars – way before.
There is no way to explain the weird allure of this movie; one waits for the next surreal plot twist that defies any rationale, all the while soaking in the psychedelic thick mist that seems to float off the screen and into the air around you. It is like a portal into a darkly weird universe where fever dream transitions come and go.
Amid all of this, hard-core dramatic acting by a gathering of known professionals was also on display – no tongue in cheek,, no puns, no humor, this was serious stuff, with serious consequences at every turn.
The original version of this film had some very sexually lurid scenes and dialogue, hence the UK rating of X, those scenes were later cut. The original uncut version shown in the US, the Drive-In version, had those scenes intact which further fueled the gears of the mind to incorporate that level of drama into the overall madness and mood.
Based on the book by Dennis Wheatley, the mood of this movie is central, an always foreboding atmosphere; no matter the scene, the movie's weird vibe actually over-rides the not-too-special effects and sometimes absurd but trippy plotlines.
Dana Gillespie's monster camel-toe defeats the monster giant scorpion .
Dana Gillespie was David Bowie's first girlfriend and singer associate, and Rock Star in her own right – 00individual had her "Weren't Born A Man" album – and played it.
To travel across the seaweed on foot by helium ballons and tennis racket shoes is demonstrated in the film by the amply-endowed Dana Gillespie.
Remember kids this was 1968 – there was a lot goin' on, and the psychedelic floodgates had opened and soaked many professionals, such as, film writers, producers, directors, and actors – even a few studio heads.  The Lost Continent is one of those films that would not have ever been greenlighted except for within that exact time, in that era, under psychedelic influence.
The plot includes passengers on a steamer lost in a Sargasso Sea of sharks, octopus and killer weed, and not the good kind.  Besides all of the salacious undercover actions of the seemingly all guilty-of-something passengers, they run into Spanish Inquisition descendents ruled by a boy king on the previously mentioned galleon.
Had this played out with an undercurrent of light humor it could've gone camp like BARBARELLA (released later in '68), but no, and that's what made this bizarre acid-drenched film more involving.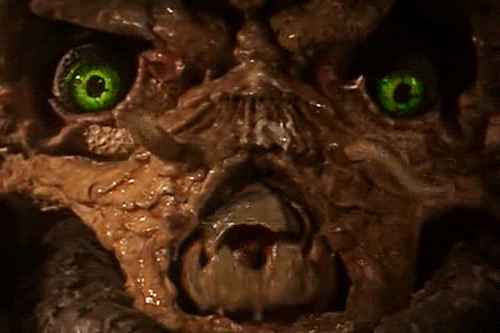 00individual could not look away, but lit up a joint; backseat sex would have to wait.
"The Lost Continent"
A bizarre psychedelic horror mystery thriller monster film from a half a century ago.
A True Gem!
.
– Please disregard any advertisements that may appear directly below on this site –
00individual does not endorse nor receive any payment of any kind from any advertiser(s).